My home in Leander, Texas is one of the ponds on the Austin Pond Society Night Tour tonight, 7/18/09 from 8:00pm to 11:00pm.
My Home, an Austin Pond Society Feature
This Austin, Texas event is great for people who like looking at beautiful yards  & water features.  It's a great way to get ideas for your own projects.  For refreshments I am planning to serve organic lemon grass tea, organic mint tea from my gardens.  My yard is accessible.  There are slightly uneven surfaces but no steps.  Many other ponds are accessible as well.
Water Features
My Water Features include a disappearing fountain by my front door, which was my 1st water feature.  When I bought my home there was a full size oleander trying to live in this small 2' X 2' space!!  I lined the hole with an EPDM liner, added a grate, small pump & vessel.  After adding river bed rocks and water I was in business and amphibians moved in.
The Creation of my waterfall and bog
My pond, waterfall & bog are in my backyard & were hand built over 2 years.  It all started when my son and I started digging a small hole for a small pond one evening.  Every article on pond building that I read said that many pond owners felt their pond was not big enough and encouraged you to build a pond a good size from the beginning.  So we did.  I have goldfish and a hybrid koi/goldfish in my pond.  Also Rosy Reds, snails, Leopard frogs and toads.  A teeny tiny, bird sounding frog called "Peepers" live in my yard too.
I do organic edibles and xeriscaping in my front yard.  The front yard is, sadly, water hogging St. Augustine, what yard I have left.  The small back lawn is a wide blade Zoysia- it rocks!  I have numerous Native Trees & other plants that support butterflies, bees & wildlife.  My yard is a National Wildlife Federation Certified Wildlife Habitat™.  I share my peaches, blackberries, tomatoes, water & other food with wildlife.  I put the lights in my backyard so I could work in the yard in the cooler nights of HOT Summer.
The Cabana, Patio and Greenhouse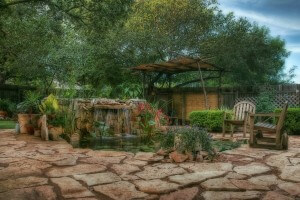 The bar is made out of an old Mexican blanket chest I found on Craig's List.  Topped with a solid piece of stone, we added shelves, a native juniper ("cedar") foot rest & native stone around the bottom.  The 2 signs are from Craig's List.
Stone Patio: Well over 10 tons of locally quarried Native stone were used in this project.  I went to Florence and Jarrell to pick out and order stone.  I set the natural patio stones in sand and finished it off with decomposed granite.  This created a permeable surface to allow the rain to water my beloved Live oak trees.  It is part of my get rid of lawn process.  The large stone patio is also a surface that our active & large German Shepherd (from Blue Dog Rescue) cannot tear up.
My greenhouse is built out of primarily recycled materials which include a used door, used window and 3 sheets of glass from old sliding glass patio doors.  The greenhouse has been great for keeping my plants from freezing in winter.
My large, irregularly shaped Dog Run is made of hog fence panels, landscape timbers & cedar posts installed in a shady, breezy area with a low maintenance, no-mud pea gravel floor.
Current Improvements
I am currently doing more retrofitting of my home to be even Greener.  On my list is finishing the gutter system and adding a large rainwater collection system. I plan to use tall, rectangular brown colored tanks that will fit up against the house.  I will be taking out the strip of grass on the east side of my driveway and installing crushed rock.